Go Bears!!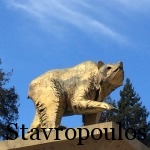 CAL. The University of California, Berkeley. The crown jewel of the UC system. My alma mater.
When I was little, we would take the train to Southern California. In those days, Southern Pacific still ran a passenger train from Oakland. We would stop at the Berkeley station, and my mom would take me by the hand to a window on the train that faced the Berkeley hills. She would point at The Campanile (Sather Tower) in the distance standing watch over the Berkeley campus and say, "that's a good college. You should go there." Greeks value education above all else. My mom emphasized that a college degree was something that you have forever.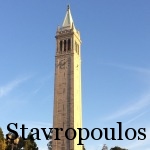 Neither my mother or I knew that Berkeley was a top-ten university, that it was a crowning achievement to be granted admission to such a prestigious university. She just thought it was a good college and I thought okay mom, whatever you say.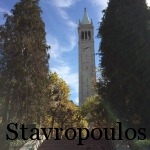 The Campanile stands 307 feet (93.6 m) tall, making it the third tallest bell and clock-tower in the world. It was designed by John Galen Howard, founder of the College of Environmental Design. It can be seen against the backdrop of the Berkeley hills from around the Bay Area.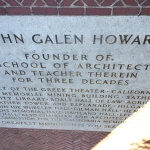 I did get in. I did get a great education. Many days I sat looking up at The Campanile knowing that it was my homing beacon. I've been to the top, taken my mom up too. I remember hearing the notes of carillon across the campus. Sather Tower houses a full concert carillon, enlarged from the original 12-bell chime installed in October 1917 to 48 bells in 1979 and the current 61 bells in 1983.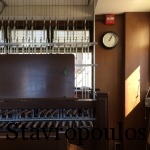 The largest bell is the 10,500 pound "Great Bear Bell," which tolls on the hour and features bas-relief carvings of bears as well as the constellation Ursa Major.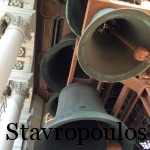 I've been on the interior floors housing the Department of Integrative Biology's fossils. I was told the cool, dry interior is suited for their preservation.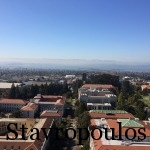 On graduation at the Greek Theatre (The William Randolph Hearts Greek Theatre), my mom heard my name being called out. While the Greek is an 8-500 seat amphitheater, I could see my 4'10" mom standing ten feet tall as I walked across the stage to receive my diploma.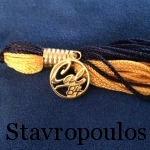 I tell everyone I got in when monkeys could get admission, not because UC Berkeley isn't a top-notch school but because, still to this day, I can't believe that I, a poor kid with undiagnosed dyslexia, born and raised in Oakland, with uneducated immigrant parents, could gain admission to one of the world's top universities. I still pinch myself.
I bleed Blue and Gold!!