It happened. Again… at the Writer's Police Academy.
The Writer's Police Academy offers "hands-on" opportunities for participants. Apparently, I've signed up for the 'cuff on sight' track.
Lee Lofland worked hard protecting citizens from the bad guys as a police detective. He is an award of valor recipient. And he keeps on working for citizens and for his fellow law enforcement officers. He created THE BEST WRITERS' CONFERENCE IN THE WORLD, the Writers' Police Academy because he wants writers to 'get it right'. In fact if the Writer's Police Academy had a motto, Getting it Right, would be it.
The Writer's Police Academy offers participants the opportunity to learn from the best of the best. The instructors are experts, special agents, sheriff deputies, police chiefs, highway patrol, EMTs, SWAT, snipers, firefighters, undercover agents, Secret Service, ATF, and TSA agents, lawyers, judges and detectives – top people in their respective fields. They taught classes in forensic psychology, forensic DNA testing, ballistics, firearms, cold case investigations, crime scene investigation, processing and evidence collection, fingerprint analysis, blood analysis, crime scene evidence collection, serial killers, profiling, arson investigations, fingerprinting, shoe impressions, killing by microorganisms, undercover assignments and so-much-more. We heard from best selling authors on their writing journey, how to research, how to weave in facts, experiences and case studies into stories. Police officers told us they love what they do; they feel the responsibility and the duty of doing a job well.  All of them asked one thing of the writers, take what we teach you to get it right.
Our first night, we had a demonstration on disarming the bad guys. The instructors, Lee Lofland and Eli Jackson demonstrated techniques for disarming attackers wielding knives and guns.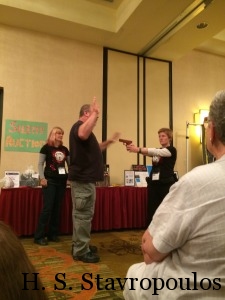 Eli was so fast that my camera was unable to focus or capture the image. Lightening fast. We then were able to practice with fake guns and knives. While not as fast, we were thrilled to practice the disarming maneuvers seen in the movies.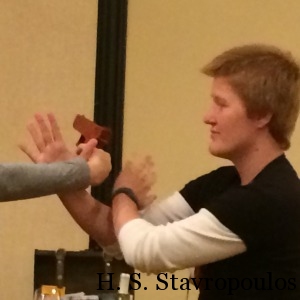 Lee demonstrated on one of the participants.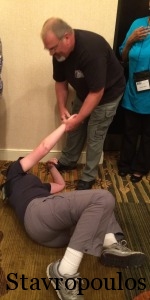 Then Lee discussed and demonstrated the 21 foot rule. Eli charged holding a knife at a volunteer. Me. The 21 foot rule is the minimum distance for a police officer to react to an advancing attacker and remove his service pistol from his holster to fire. Anything less than 21 feet, it is humanly impossible to assess the threat and react quickly enough to draw a weapon from a holster. I know, I tried.
Back to the demonstration, as I stood waiting, Lee shouted go. Eli charged at me and I valiantly attempted to remove my 'gun' from the holster in my duty belt. I failed to draw my weapon. Three times. When I did the weapons training simulation (another offering at the Writer's Police Academy), I was presented with various scenarios but my gun was drawn and at the ready. Many of the scenarios left me with a split second decision whether the person or persons on the screen presented a threat to me. But in the 21 Foot Rule scenario, my weapon was not drawn.  Even knowing that Eli would run at me with a knife; something that an officer DOES not know in a real world situation, I still could not draw my weapon in time. Three times, I failed to draw my weapon. Three times, I could have died. That is a sobering thought.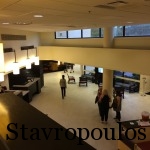 Up at the crack of dawn the next day, we got dressed, ate breakfast,     scanned our programs then hurried out front. We caught buses at    7:30 sharp, and headed out to the Guilford Technical Community College.
Our first morning we assembled under the hot North Carolina sun to view a mock-up of a crash. Several people had been 'injured' when a car drove into a yard sale. Once we were assembled the 'call' went out to 911. Police arrived, calling in a request for paramedics. The officer then preformed a quick survey and assisted those wounded as he could. Paramedics arrived and took over the scene, one taking point dividing the area into various treatment areas for triage. The firefighters arrived, reviewed the situation and pulled out the jaws of life to release a victim trapped under the car. While paramedics and fire fighters worked, the first officer, along with a second one who had arrived checked the driver was was unhurt. They performed a field sobriety test, determined the driver was intoxicated, and arrested. In mere minutes the area was cleared of the wounded who were transported by ambulance to hospitals. We were impressed with the efficient and quick work of fire fighters, paramedics and police.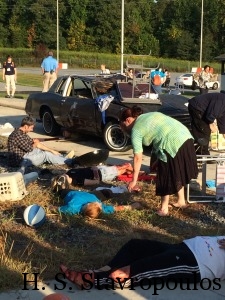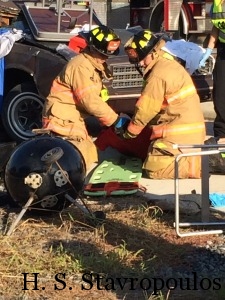 Then on to our classes. Firearms with ATF Special Agent, Rick McMahan interested me for the first session, then I was slated for the driving simulator (I did not crash the fire truck!!),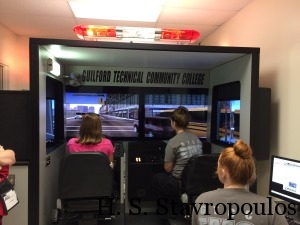 next Deep Undercover with ATF Special Agent Bill Queen discussing being undercover with outlaw biker gangs. For the afternoon, Retired NYPD Marco Conelli fascinated us with stories and details about his undercover work, then New York Times bestselling author John Gilstrap's class about the Technical Stuff that Writers Get Wrong.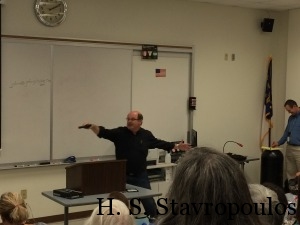 At the end of the day, Lisa Gardner regaled us with personal anecdotes about her research, especially how she got to the Body Farm. Onto the buses, we headed back to the hotel, everyone discussing the lectures. Participants traded notes, information and key points with their seat mates.
Later that evening we were treated to a reception sponsored by Sisters in Crime National where we mingled with other participants and instructors. Then we were off to a lighting demonstration in a secluded grassy area behind the hotel. We found a crime scene complete with a 'dead' body. Three different lighting techniques were demonstrated each successive one revealing more items surrounding the body. The last lighting source looked like a UFO at the top of the pole, but when turned on, illuminated the crime scene almost as well as daylight.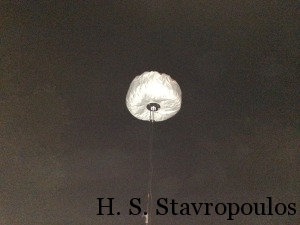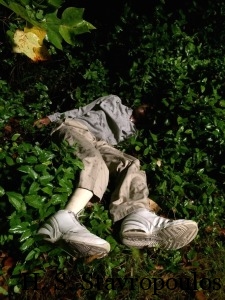 Next day, crack of dawn, up, showered, dressed, breakfasted and waiting for the buses at 7:30 am. Lee trained us well.
We arrive at GTCC. This time we're sent to an area and told to stay back. Captain Randy Shepherd conducted a breaching demonstration. He walks us through the difference between breaching a front door versus an interior door. He states that there are two different types of building searches – the slow methodical one that his teaches us in the building search class, and the dynamic type done with an explosive breach, that he is about to demonstrate. Then, he and his fellow officer approached the 'house', they attached a long black strip down the length of the 'front' door, this contained the C-4 with an attached wire to the blasting cap. Captain Shepherd yelled 'control', then counted down, three…two…one, blast!! Pop!! Boom!! A burst of flame and the door fell to the ground, the officers entered and cleared the 'house'. We asked questions, and took pictures, some of us posing with the two officers.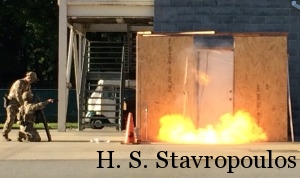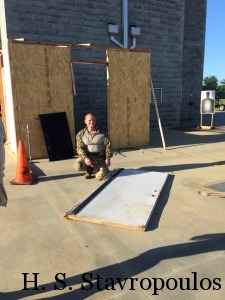 Then off to classes. Several classes caught my attention, Dr. Katherine Ramsland, Varieties of Multiple Murder, and her class with Dave Pauly on Equivocal Death Investigations, plus handcuffing and arrest techniques with Stan Lawhorne where a few tried picking the lock while handcuffed behind their backs, and Master Corporal Dee Jackson's, personal safety and self protection class, where we got to take down some dummies and learn about being vigilant first and foremost.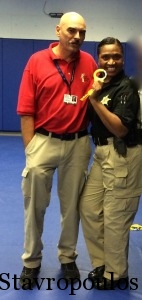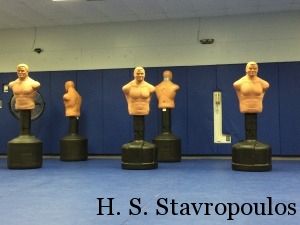 At the end of the day, Alafair Burke gave a wonderful presentation about the criminal legal process with hints on how to use the information for fiction writing. Then off to the buses and back to the hotel to get ready for the banquet.
The Saturday night banquet this year featured one of my favourite authors, Michael Connelly!! Mr. Connelly, along with being a nice guy, great author, shared his writing process and advice for writers. Afterwards he graciously signed books and posed for photographs with us.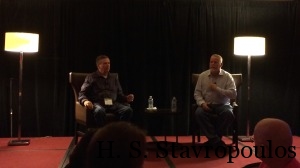 The other feature of the banquet is the silent auction and the raffle baskets. All proceeds benefit Criminal Justice Foundation at Guilford Technical Community College.
Sadly I did not win the New York-themed basket donated by Marco Conelli. I really wanted to win it. Marco found out how much I wanted his basket and being the nice guy that he is, presented me with his own hat!! I just love that guy!!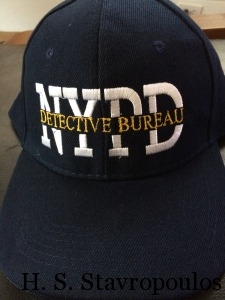 Sunday is the debriefing panel with many of the instructors.  Particpants get to ask follow-up questions.
While, there are many more things to do than is humanly possible (I recommend bringing your clone to be in two places at once), there is only one thing you cannot do at the Writer's Police Academy. Shoot video. Lee told us that several times.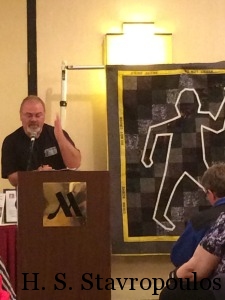 I swear that's not why I got arrested…. I was just hanging out with my peeps. Not doing anything wrong. I swear. But then this guy comes around. I size him up; he blends, not rocking the undercover cop look. I figured he's cool. We weren't going anything wrong. Then he points to me. Guy wants to talk. I walk over, I'm not scared, I could take him, especially after the skills I've learned. So I say what do you want. Next thing I know, I'm up against the wall, guy pats me down, and then I've got the sliver bracelets of shame. Again…